This week I am very happy to bring you news of the Buccaneer Scholarship Fund – right here in Eleuthera. This is the brainchild of Michele Johnson and her daughter Yasmin Johnson. They are both very aware of the need for financial assistance as well as the know how of how to get a place in both a Bahamian University – formerly the College of the Bahamas – as well as a place in a college or university in the US or Canada – or the UK for that matter.
This is also a subject close to both Bob and my hearts as well as our nephew Sam was the recipient of a wonderful scholarship a good few years ago in the UK.
There is a young Bahamian man called George Johnson – no relation ! – who got himself a place at culinary school in Toronto – the George Brown College – who we decided to help – that is Michele and family and Bob and I – and from this grew the idea for the Scholarship Fund- absolutely the idea of Michele and Yasmin…..
So the Buccaneer printed some flyers which go on every table and tell people that they can make a donation through the Buccaneer point of sale system. The receipt shows that this is a scholarship donation and is entirely separate to a bill for food and a tip for the staff !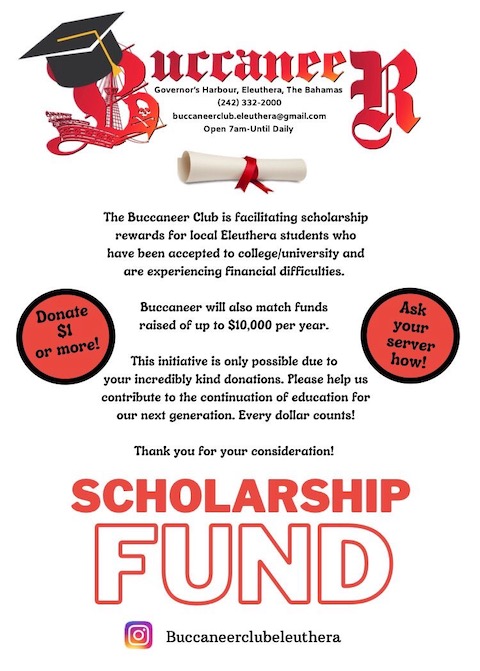 The first Bahamian man that they told about the new initiative was giving a $5 tip – he decided when he heard what it was for to add another $50 to it immediately and when the staff heard what he had done they all put in their tips and suddenly there was the first $150 in the fund ! As you know I am a great believer in lots of people making small donations – I think it empowers people to think that they too can make a small difference – no-one can solve all the problems but the sense of a community of both people who live here and people who visit coming together is a beautiful vision and one that I want to spread….
Very generously the Buccaneer has pledged to match every donation up to $10,000 per year and the talented Yasmin Johnson is running the scheme. She is a wonderful visionary young woman with an extremely wise head on her 27 year old shoulders.
She explained to me the intricacies of not only navigating to get a place but also navigating the steps that have to be gone through to actually obtain the necessary visa and documentation to take up a place in a different country. Fortunately she has first hand experience of this having been to university in Canada and this experience is invaluable.
She helped George through the process of having to travel to the Canadian Consulate in Jamaica – as there is not one in the Bahamas – to obtain the necessary biometrics in order to be able to take up his place. In fact this week he has travelled from the Bahamas to the US – first having taken a Covid test here in the Bahamas – then taking one in the US as Canada will only accept a US test – plus there are no direct flights from the Bahamas to Canada at the moment due to Covid restrictions. Then later this week he will fly into Toronto where he will have to quarantine at his own expense for 3 days while he gets a Canadian Covid test. 3 full scale tests – not the antigen test at a cost of $200 each never mind the assorted expenses associated with it all.
Yasmin is wonderfully enthusiastic but also realistic about the legitimacy , accountability and transparency that are needed when running something like this and both she and her mother Michele make a formidable team to head this up. The funds will be administered on the basis of both merit and need. Applicants will need to have a letter of admission to the college or university of their choice before they are considered and the funds will be paid directly to the school.
This is real hands on help which fills a gap for our community – Covid has of course wreaked it's own particular carnage during the last12 months — but this initiative gives a real and practical sense of hope for young people with the drive to further their skills and education.
This scholarship fund will become a holding tank for the many visitors and residents here who wish to contribute to the community but do not necessarily know who or what to donate to…..
Now of course details of how to donate – of course you were expecting this- right ? There is a Paypal account – buccaneerscholarshipfund@gmail.com where you can easily make a payment but for larger donations and if you want the advantage of tax free giving then please contact either Michele Johnson by email – michele_eleuthera@yahoo.com or call her on 1 242 808 0895 – or contact Yasmin at – yasminsjohnson@gmail.com – cell 1 242 813 7508
And of course you can make a donation in person at the Buccaneer either cash or credit card if you are here on island
As always we are all so very grateful for any donation that is made – no matter how big or small…… It can go towards making a dream a reality for some of our young people.
And now a few drone shots – thank you Sandy for these – of Sprawling Towers and the progress there ……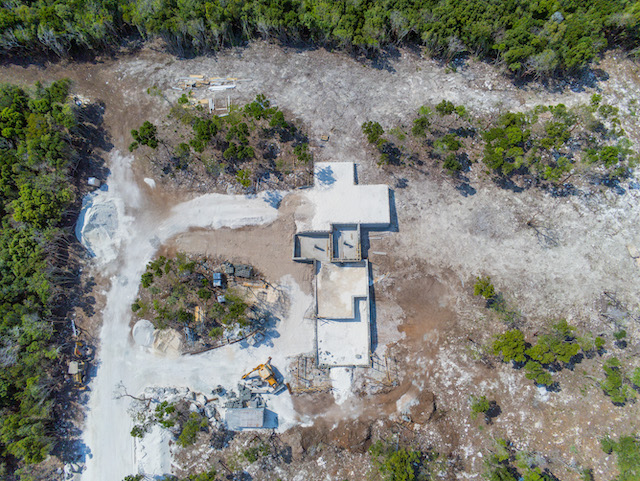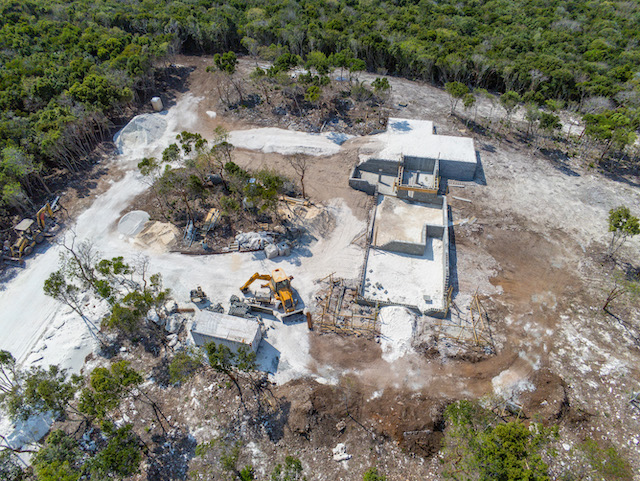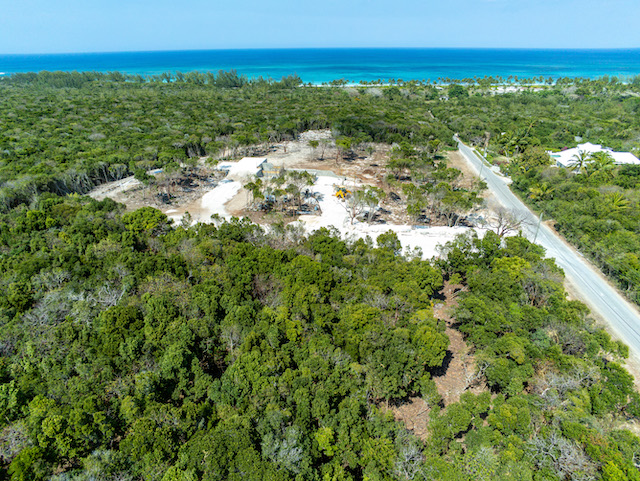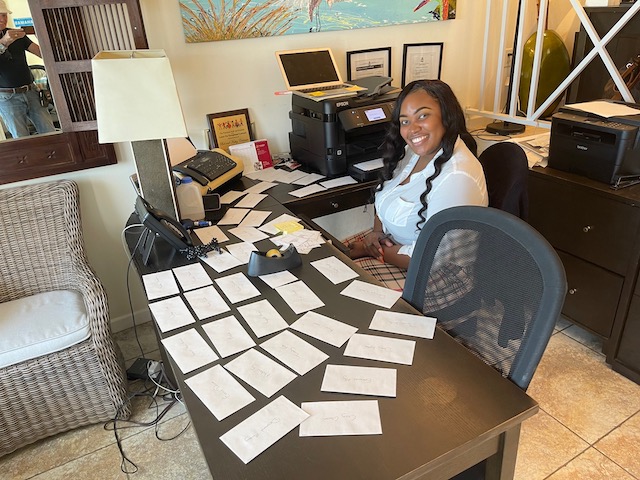 And finally – a surprise gift from the wonderful chocolatier friend of our Oliver Kita – let me tell you that they taste even better than they look – and they are a work of art ! Thank you again Oliver – they were sensational !