So here we are in that glorious week between Christmas and New Year – the office is closed but there still seem to be plenty of things that need my attention – but there is also time to enjoy a little bit of down time. We had a lovely Christmas Day – eating my own bodyweight in roast potatoes – and sharing it with Bob,Mary my Mum and a friend – Miranda who owns a beautiful house on Windemere Island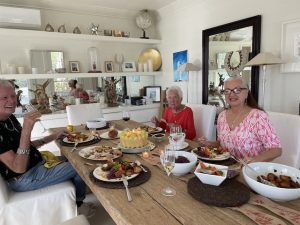 This year I decided to add yorkshire puddings to the meal – as if there wasn't enough ! – great picture but they looked better than they really were – they were a bit stodgy instead of light as air. Note to self – get top tips from my sister Jane when she comes out in February. It was a day of cooking and eating and realizing that it really doesn't matter if everything is not perfect. I think that is a lesson that many of us have learned over the last year or two.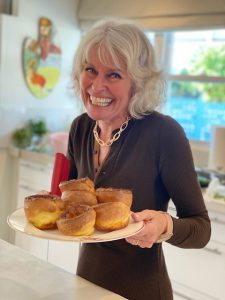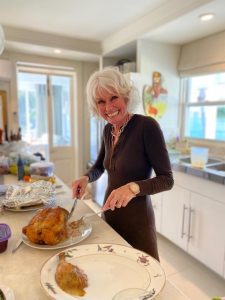 I had a lovely time watching Miracle on 34th Street – from 1947 – while I was preparing and cooking followed over the next couple of days with It's a Wonderful Life and The Bishop's Wife. I do love some of these old Hollywood greats …..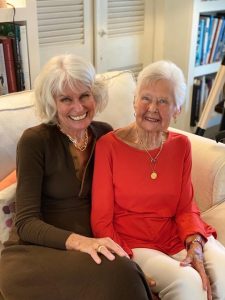 On Boxing Day we went over to the newly re-opened Bacchus Fine Foods and enjoyed a fabulous lunch. There has been a beautiful exterior facelift with a new canopy sun shield and lovely shutters – it has really made it look very classy and the canopy is practical and keeps the sun off you so you can comfortably eat outside.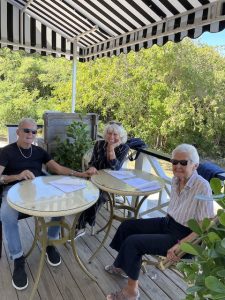 That first visit Mum and I had the crab cake benedict which was just fabulous and Bob had a breakfast sandwich on an English muffin. He thoroughly enjoyed it – such a delight to eat somewhere with new things on the menu – well done Angelika for coming up with fresh delight and inspiration.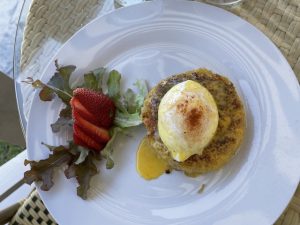 We went again 2 days later and both of us had the lobster burger with yucca fries and salad. Well dear readers let me tell you that will be the first of many times that I enjoy that particular new dish – it is wonderful. The lobster is breadcrumbed and fried and served with a spicy mayo in a brioche bun. My mouth is watering just writing about it !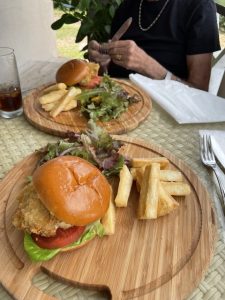 Anyone who visits here more than once knows that the menus very rarely change so it is refreshing and exciting to sample something new.
The workers on the new pool at Colman Towers have worked a few days this week and it is coming on very well. Hopefully all will be finished in the next couple of weeks. Watch closely for more news ……