Yes – this week I bring you news of a fundraiser – not again I hear you cry ! – a great dinner on Cupid's Cay and a lovely catch up lunch with great friends John and Judy. The fundraiser first.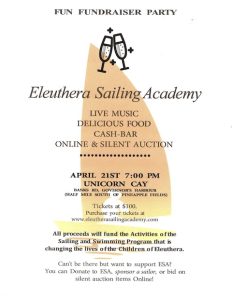 So the Eleuthera Sailing Academy is having a party on April 21st to raise funds for swimming and sailing lessons for the children of Eleuthera. As you know I have written before about Martin and Carlien and the wonderful job they are doing to get the local children both swimming and sailing. I am putting a link HERE – so that you can have a look at their website and click on the Support Us link which will take you to a Go Fund Me page. Of course if you are here and can actually buy tickets and be at the party then that is great – but if not then you can make a donation – no matter how big or small and make a difference to the Sailing Academy. It is always a joy to see just how much fun the children have when they are learning these new skills and it is a vital lifesaver for them to learn how to swim.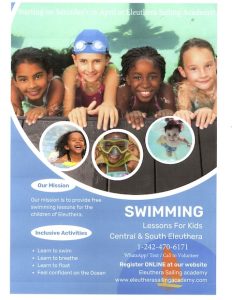 Monday evenings can be a bit dull sometimes – right ? Well not when you go to dinner with Dan and Larry on Cupid's Cay . We went this week and ate a fabulous Pad Thai that Dan cooked followed by a really good desert – chocolate and cherry cake with ice cream. There were 6 of us – Dan , Larry, Claire, Diane and Bob and I. The conversation was interesting. the dogs were very well behaved and the food and drink first class. What more can you ask for ? There was also a spectacular sunset which we all went out to see and oooh and aaah over. It was a truly lovely evening- thank you again Dan and Larry for being such kind and generous hosts….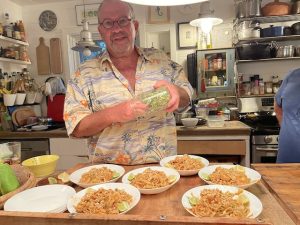 We met up with dear friends John and Judy for a long leisurely lunch at Bacchus Fine Foods on Tuesday . John and Judy started off our relationship by renting Tops House several years ago. They returned every year moving on to renting Yellow House and having their family visit them while they were here. When lockdown came in March 2020 they stayed for a total of 3 months – deciding very wisely that being  in lockdown in Eleuthera was definitely preferable to being in lockdown in the US. Of course we haven't seen them until now – nearly 2 years later but it was great to spend time with them and catch up on all our stories !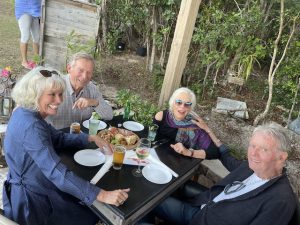 After lunch we took them for the obligatory tour of Sprawling Towers which has seen some good progress lately. We had all the ceilings insulated with spray foam over the weekend and now the sheetrock is going up giving us a feel of how the next stage will look. Sometimes you go for a few weeks and nothing looks too different despite everyone still working away – but then you get a splurge where it suddenly feels like that everything has moved on dramatically.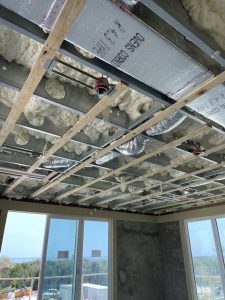 We have to look for another wooden flooring for the bedrooms and lounge area while we are away in Ft Lauderdale as the one we had chosen is no longer available – darn it .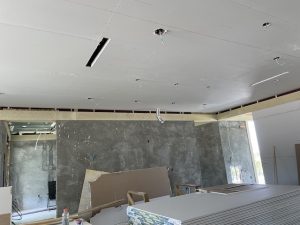 So as always , stay safe, be kind where you see the opportunity and have a good weekend…..