This week I bring you up to date about Bob's eye and give you a tale of 2 suppers !
Thank you so much for all the enquiries about how Bob is doing after his eye surgery. Slow but sure progress is the answer – the other morning he told me that he could see the numbers on his phone without glasses – yippee. Of course he is still having drops 3 times a day which do create a slight mist so it takes a while for that to clear but his vision is definitely getting better – so roll on getting the next one to match …..
Next the tale of 2 suppers …….
I have written before about going to supper on Cupid's Cay with super hosts Dan and Larry – they are kind and generous and Dan is a fantastic cook – we always have a great night when we go there.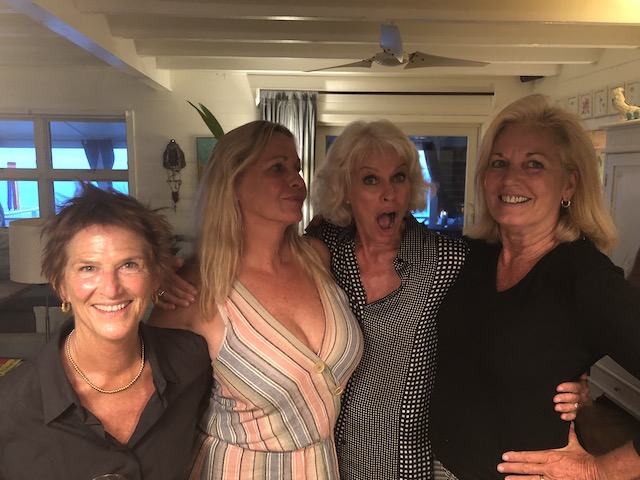 So off we went on Friday night with good friends Nancy and Clemens , Amanda and Polly for a darned good evening. All sorts of delicious appetizers – including smoked salmon , hummus and my favorite Japanese puffy cracker type thingys , plus some other gorgeous little savory nibbles – sorry can't remember what they were !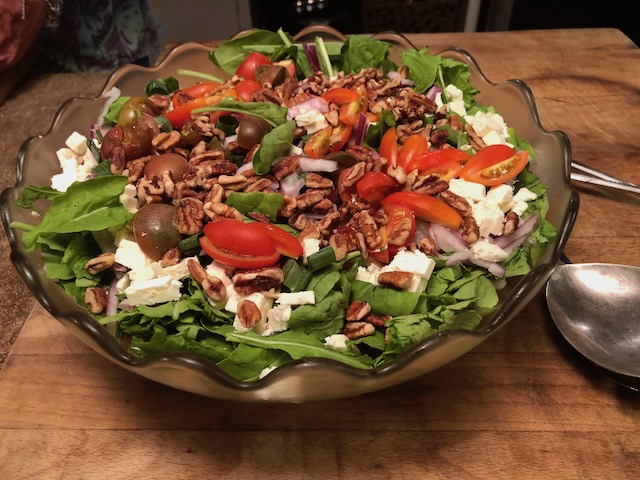 Then we enjoyed a lovely totally vegetarian main course of ratatouille with potato salad followed by a very tasty mixed salad. The final course was for most people the piece de resistance – Dan's pineapple upside down cake oven baked in a skillet using local Eleuthera pineapple. Served with rum – or was it brandy ? – flavored whipped cream – the pineapple was beautifully caramelized and even I enjoyed it – and you know I am not a desert mad person. I had already had a second helping of the main course so I just ate a very ladylike portion !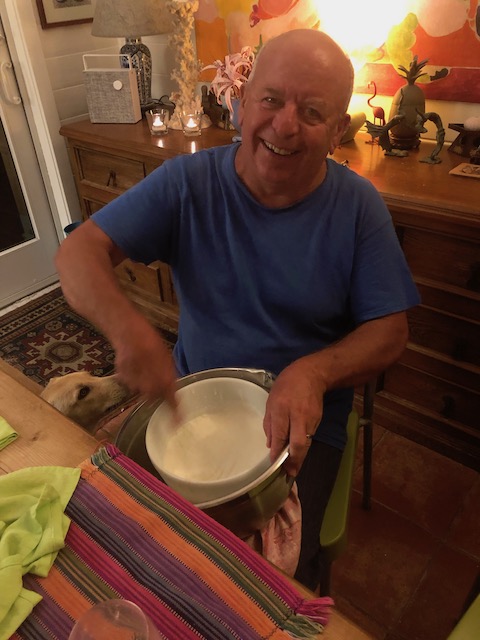 Dan then bought out his special cleaning brushes for the care of the skillet – in the best tradition of course it is never washed – right ? Couldn't resist a picture of the special selection !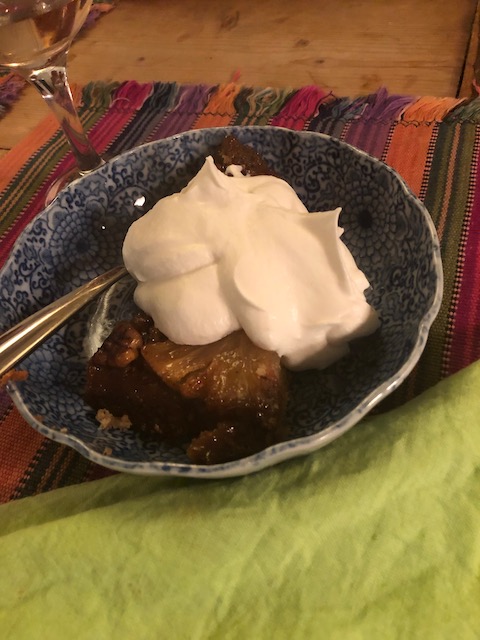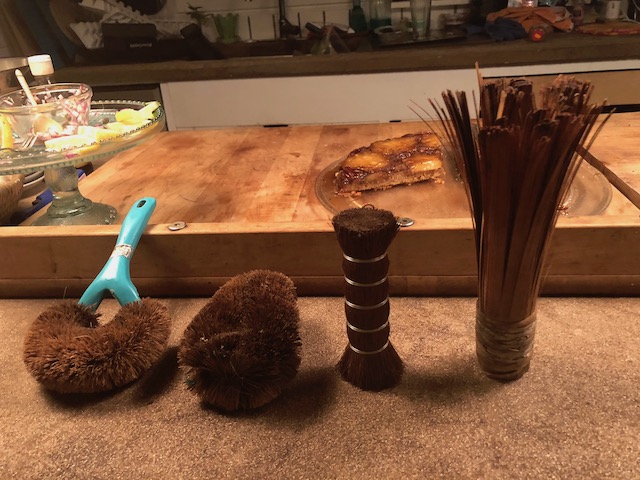 The second supper was one at Colman Towers a few nights later. This was also for Clemens and Nancy – a last supper before they headed off for their summer travels ! I decided to make a blue cheese and broccoli quiche – I do love a bit of pastry you know….. So I decided to share the recipe with you all. If you find yourselves here in Eleuthera and want to make a quick vegetarian supper then here is how to make it – and where to get the ingredients from !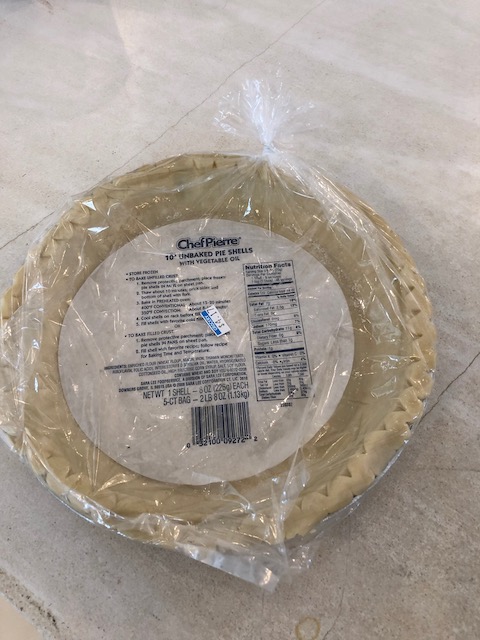 Burrows grocery shop sells the pastry pie crust that I use. Personally I always try to keep a couple of these in my freezer as it so handy for a quick supper. First I pre – cook the empty pastry case – I hate a quiche with a soggy bottom and if you don't prebake then that is what you get ! I prick the pastry well with a fork so that it doesn't rise – even though it is shortcrust pastry it can puff up a bit. Pre-heat the oven to 350 F or 175 C and bake it for around 10 minutes.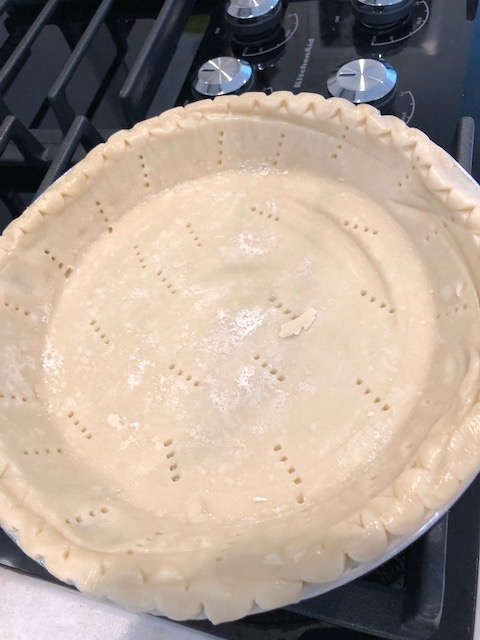 While that is happening you can prepare the filling. Put 4 eggs in a blender along with a glug of heavy cream – sorry – very vague on quantities here but remember you don't want it to be too runny. Add to this around 6 oz of blue cheese. I like a strong flavor so I use Gorgonzola from Bacchus Fine Foods . Then blitz it up in the blender so you have a nice creamy consistency. I don't add any extra salt as blue cheese is pretty salty anyway. Cut up one head of broccoli in small florets and cook in a little salted water for about 4-5 minutes. I like it to still have a little firmness to it…..
Pour the egg and cheese mixture in a slightly cooled pastry case and then put the well drained and dried broccoli into the case as well. Bake at 325F for around 15 minutes – if the egg mixture still looks a bit runny then turn the oven off and leave it in there until you remember it ! – no only joking – maybe another 5 – 10 minutes…..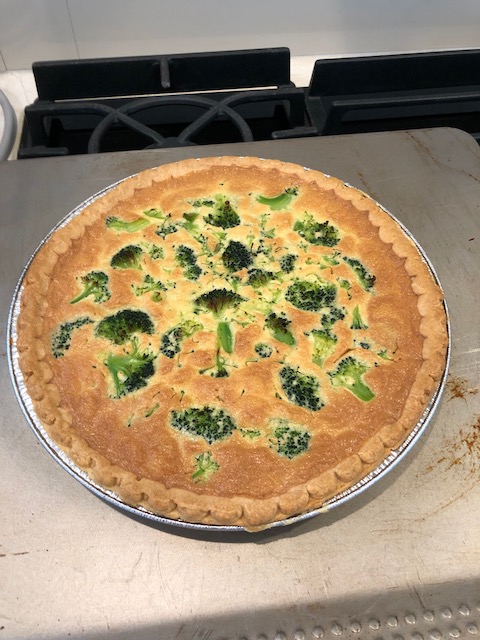 Allow it to cool for at least 30 minutes before serving….. I served it with the little baby potatoes that you also find at Bacchus Fine Foods cooked with plenty of fresh mint in the salted water. Then I toss them in a little butter and fresh lemon juice – a good bit of freshly ground black pepper and chopped mint and parsley. Some leeks fresh from the garden , a few more bits of broccoli and some cooked green frozen peas all tossed in the same dressing as the potatoes and there's your supper !
We ate fresh pineapple and rum and raisin Haagen Daz ice cream from Eleuthera Supply – the slut's desert !
Of course I forgot to take any pictures of the food on the night we ate it – so I just had to make another one so I had a few pictures !! The things I do for a blog eh ?