This week we are gearing up for Summer Camp in Governors Harbour so I am handing the blog over to Dr Claire Verden who has written this great piece ……
"As the weather gets warmer and the end of the school year comes ever closer, it's time to think about what children will do over the long summer weeks when there is no school!
For the children in Governor's Harbour there is again the opportunity to attend a free day camp program at Emily G Petty Primary School. Educators for Eleuthera, a non-profit organization of teachers from Pennsylvania, will again be providing a fun filled summer camp program for the children of Governor's Harbour. For the four weeks of July, children aged from 5 to 12 can come to camp each day and enjoy academic support to maintain their skills and have fun with arts and crafts, music and games. Each child will be served lunch and snacks each day and most importantly have fun with their friends and keep a structure to their days when there is no school! All at no cost to the families.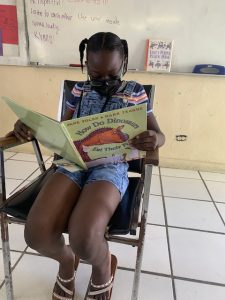 All of the teachers volunteer their time to come and support the children at the camp, they cover their own expenses to get here and give so generously of their summer time off from their own schools and teaching positions. Returning for her 7th summer of camp in Eleuthera will be Hannah Cunliffe who serves as the program director for Educators for Eleuthera, under her guidance all the planning for lessons and fun activities will make it a summer to remember for the children. The wonderful Principal at Emily G Petty Primary School, Mrs. McPhee Pinder, opens her school to us and we cannot thank her enough for her collaboration.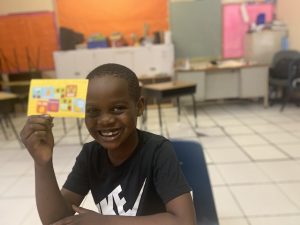 Last summer was a resounding success thanks in large part to the very generous donations received from the readers of this blog! Monies raised enable us to purchase teaching supplies, bring engaging activities and wonderful books to the children. Last summer for the first time we were able to include the children from The Center for Exceptional Learners; to see them engage with their typically developing peers at camp was a real treat. Some of these children are not local to Governor's Harbour so we need to transport them to camp each day, this is quite an expense, and we would be grateful for donations to enable us to make that happen again. We would like to provide each child with a reusable water bottle and a camp T-Shirt this summer to be both ecologically more responsible and at the same time provide them with a take home memory. This summer we will again be hiring local high schoolers to work as teacher aides, we provide them with a weekly stipend, and they gain valuable experience in a classroom; of course, we hope they will want them to become teachers some day!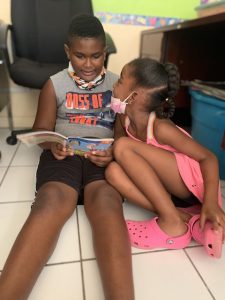 It is easy to donate! PayPal is one way; you can search PayPal for: eduatorsforeleuthera@gmail.com and donate that way. Please select 'friends and family' so that neither of us are paying a fee.
If you are in the States and would prefer to mail a check, please email me at educatorsforeleuthera@gmail.com  and I will provide you with a mailing address.
Many thanks for taking the time to read this and for your support of the children of Governor's Harbour. And thank you to Kathy for allowing us the space to share this information which is so close to all of our hearts. "
Claire Verden
Executive Director
Educators for Eleuthera
Registered 501 (c)(3) Non-Profit ID# 84-3546713
Me again now – As you all know – this is a cause very close to my heart and so it is a delight to be able to support Claire, Hannah and their terrific team in bringing the summer camp to the children and giving them a thoroughly enjoyable and fun time whilst helping with their academic skills as well.
The 4 pictures of the children were taken last year either by Claire or her team. many thanks for the use of them….
Finally a few pictures taken last week at lunches we enjoyed. These first two were at the Buccaneer with Lori and Joe Calleo and their son Dominic. We met the Calleo family a few years ago when they rented Sweetcorn House from us , they have been back quite a few times and were here last week , renting Sweetcorn House again from Martin and Marcie Weber. They have become good friends and Dominic sends me pictures he has done for both me and Pat at the Buccaneer. So finally we took time to sit down and enjoy a lovely lunch with them instead of catching up when we happen to bump into each other. Many more lunches like this to be enjoyed in the future….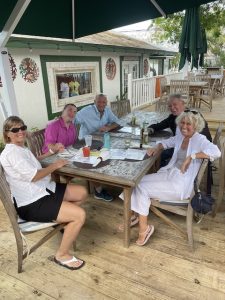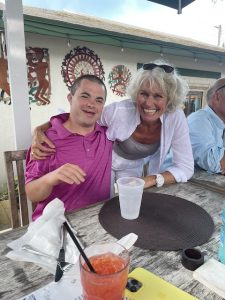 And now finally some pictures from a Mother's Day lunch at Bacchus Fine Foods. There were 5 of us, Bob, Mary, Liz and Miranda plus me. It is good to be together on Mother's Day with people for whom it is a poignant and difficult day – not the Hallmark dream – and to share stories. And eat delicious food !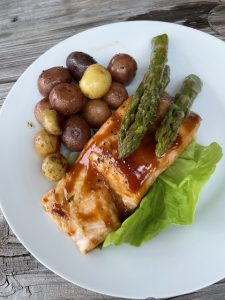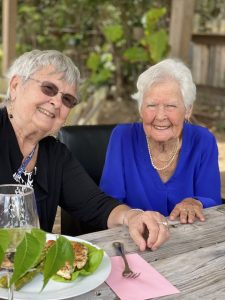 Have a good week, support and love your friends and family while you have them,  be kind and stay safe and healthy…