This last week the three of us – Bob, my Mum Mary and I enjoyed sitting down to Sunday lunch at the Buccaneer in Governors Harbour. Such a treat to be out for a meal and sitting outside in the shade ……
Isn't it amazing how things that we have previously taken totally for granted assume a whole new significance in these strange times we are living through.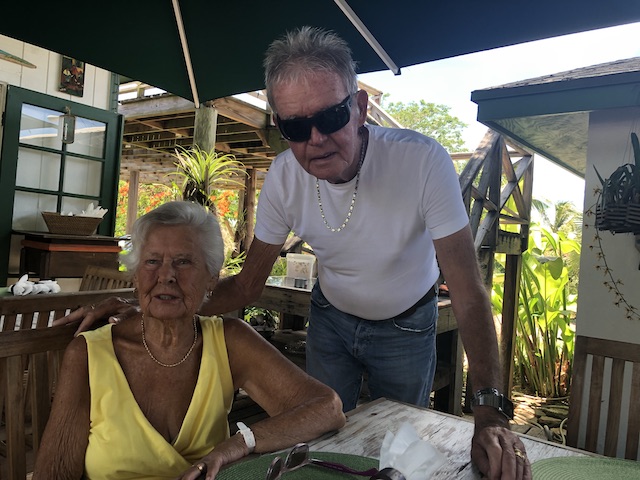 The staff were charming and the service was great – the food made such a change from home cooked – and it was lovely to see a few familiar faces and have new conversations. I talk a lot about gratitude and trying not to take things for granted – but this was a whole reminder again to be thankful for the changes that are opening up on island for us.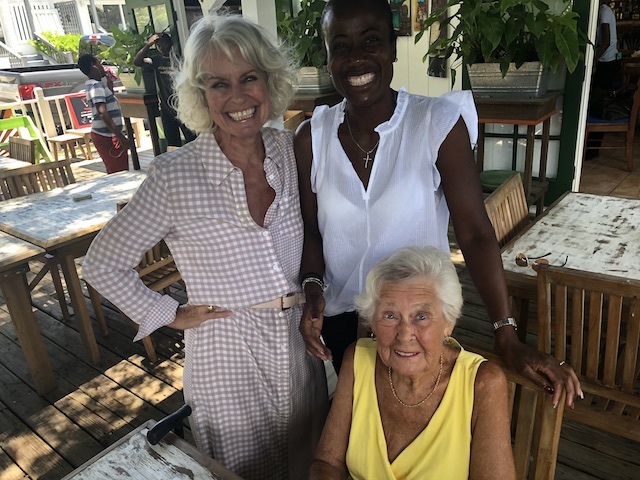 Mary – my Mum – has been in her house and small surrounding area for nearly 3 months – so it was lovely for her to have a chance to put on a nice dress and some make-up and have a jaunt out into the big wide world of downtown Governors Harbour ! We have a drive onto Cupid's Cay for her to see the harbour and generally have a look around. Of course the poinciana trees are in absolutely glorious bloom – most of the year they are very nondescript – but at this time they are a joyous sight and lift the heart…. Looking back at the hill of Governors Harbour from Cupid's Cay is a riot of orange blooms…..
Also thankful this week for some torrential rain to fill up the water cisterns and drench the dry dusty ground. We had a spectacular thunderstorm the other day – I tried to capture how heavy the rain was but somehow I can never quite do that ……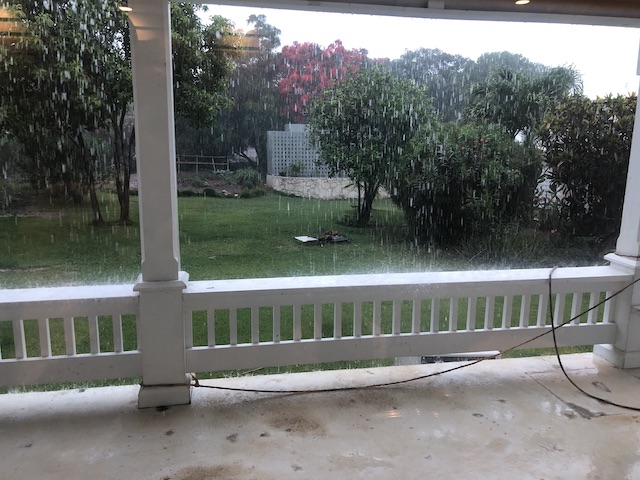 Rooster the cat is recovering really well from her trip to the vet – stitches out soon – and she is very jaunty now she is over the operation. Thanks again to Dr Italia Sands at Noah's Ark Animal Centre.
So on we go with visitors coming from Nassau now – and looking forward in a couple of weeks to welcoming returning guests from the US …… We now have all sorts of fancy new cleaning materials for the new protocol of keeping all of our properties up to speed with the latest requirements. Hopefully these procedures will keep the island safe and Covid 19 free…..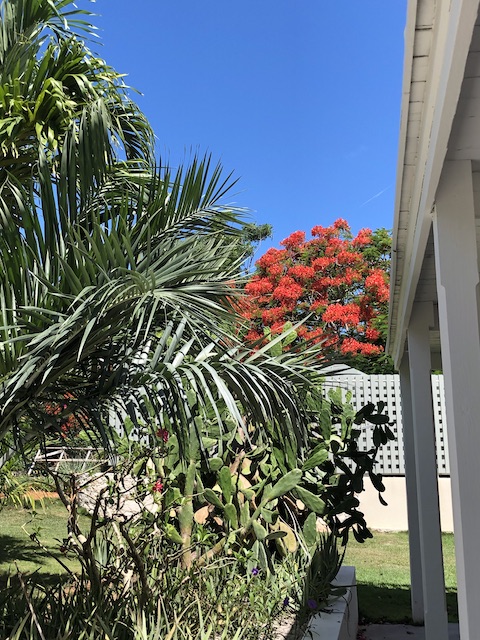 Be kind to each other – many, many people are suffering from stress and anxiety as a result of the worldwide turmoil that we are all experiencing – so if somebody is not as kind and thoughtful as you would like them to be – treat them extra specially well yourself – none of us know what others are going through and a little thoughtfulness can go a very long way if you are having a bad day …. Love to you all and continue to stay safe……