Well this last weekend certainly gave me a birthday to remember here in Governors Harbour. I love it when my birthday falls on the weekend – particularly on a Saturday so you have Sunday to get over it – right ?
It is very difficult to find anything to buy as presents here in Eleuthera and to be honest as you get older there is very little that you actually want or need – I buy books whenever I hear of them or see them and those are usually the only things where I think – oh that would be great to have.
So for Bob to come up with anything as a birthday gift it is very challenging. But he totally pulled it out of the hat this year…… A champagne breakfast delivered to our door at 7am on Saturday morning. And then served to me in bed – what a fantastic surprise !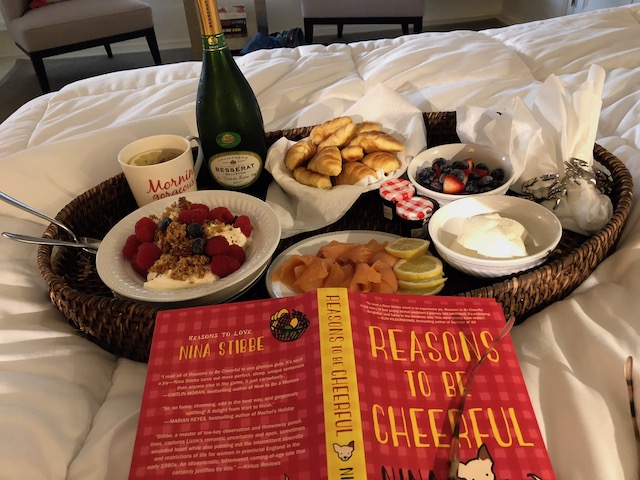 There was yoghurt and granola with fresh raspberries – a real favorite of mine – smoked salmon and creme fraiche – warm mini croissants and raspberry jam – and of course a bottle of delicious ice cold champagne !!! Spoilt or what !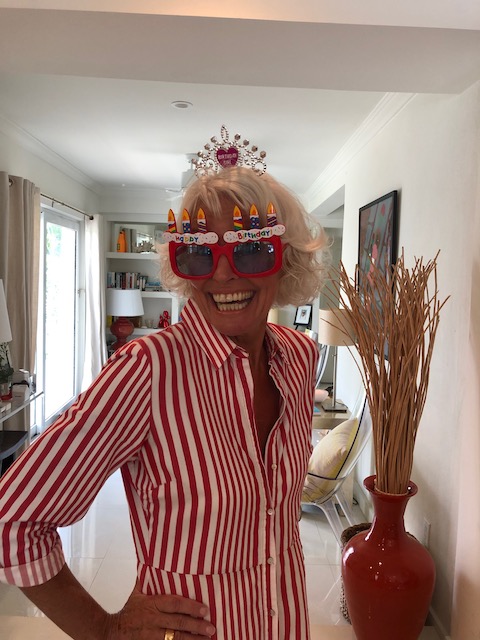 I felt thoroughly pampered and it was only 8am by this time …… We always wake up early so this was the perfect time for it to be delivered and devoured.
The rest of the day was spent relaxing and pootling around – a trip to the beach in the afternoon with Rudge and Jane – meeting up with Rufus and Xena for a playdate and a flounder in the ocean then off to Bacchus Fine Foods with Angelika and Sandy for a curry party. How good can it get ?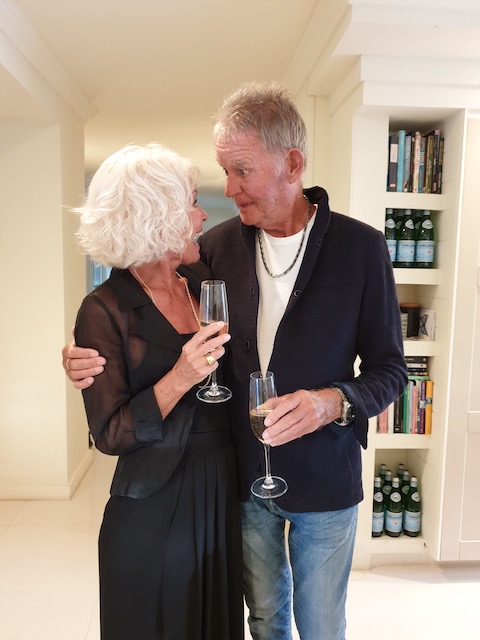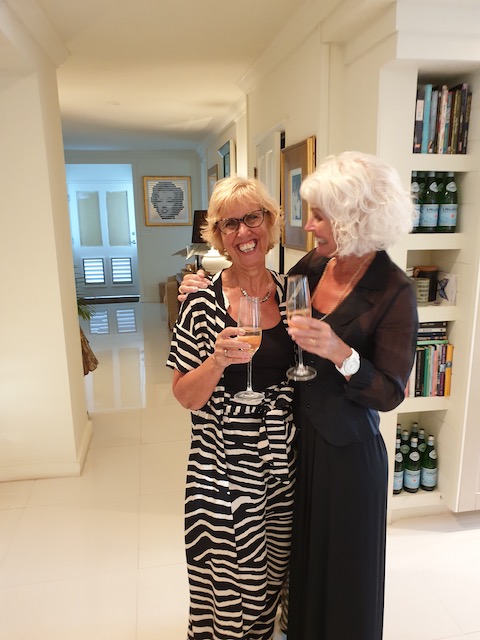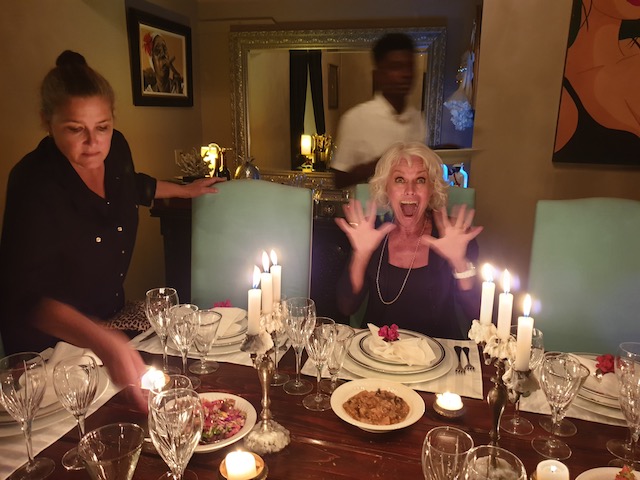 Yanni – Angelika's son joined us for a funny night – eating drinking and dancing – such a good time. Isn't it shocking though when you remember how you could sing along and dance for hours – now after a couple of tracks – well one if I'm honest – I need a sit down. Note to self – get fitter so I can dance for longer !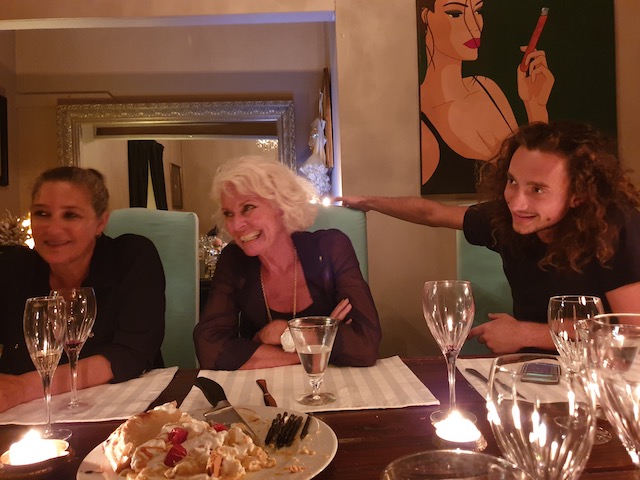 Sunday was spent recovering – although we went to La Bougainvillea for lunch and they presented me with a very special desert !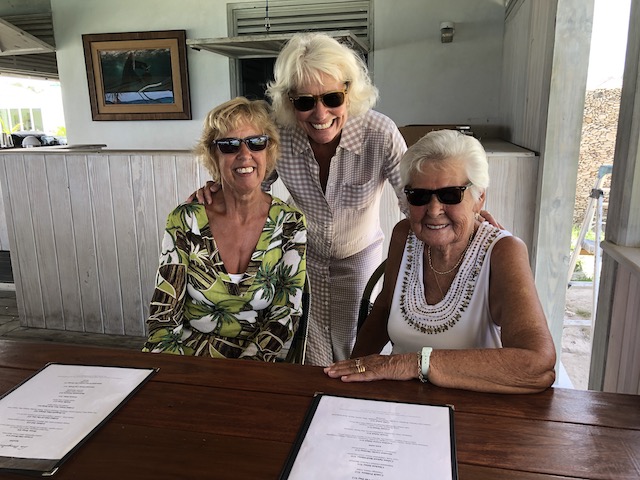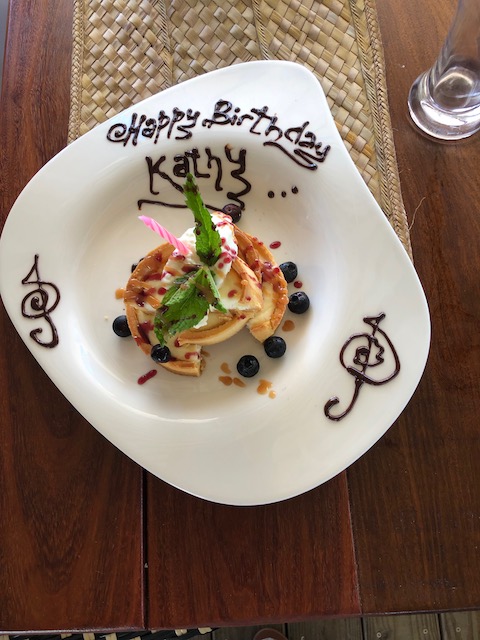 Back to work on Monday and getting a great selection of outdoor furniture put together for Yellow House , Tops roof deck and a bit more for Sweetcorn House. Comfy lounging furniture has not been very abundant – but all that is changing now….. Watch out for more pictures…….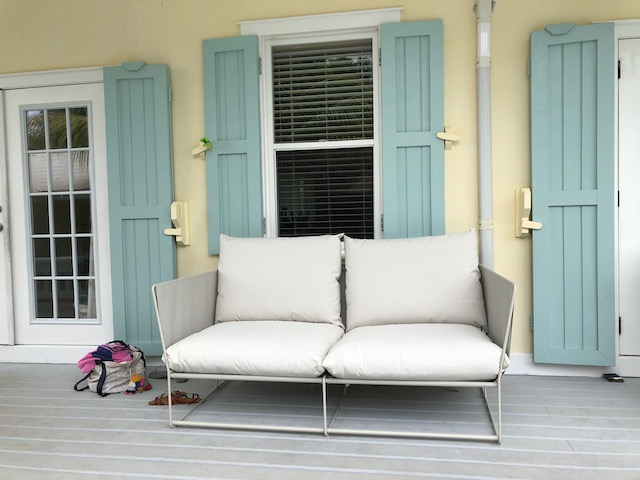 I want to tell you about a gorgeous meal we ate at Dan and Larry's house on Cupid's Cay. Not a single picture was taken – but the meal was very special. We started with home made crackers and a great cheese selection brought by the lovely Shannon Curran who was also a guest …… Then we had calamari tempura style. The presentation was beautiful – all on individual plates with a spicy sauce to go with it. Next up was a sesame noodle salad – again in beautiful little Japanese bowls – just the right amount. Then sumptuous scallops in a tasty sauce and finally a rice flour cake for desert.
The meal was a perfect balance – small beautifully presented plates of such tasty food – thanks to Dan and Larry of course for another great evening…..