Yes good news that the Buccaneer is open again – and they have a lovely brand new deck – seen above – which gives more seating outside. Bob and I met up with some friends we haven't seen for a couple of years – Andria and Ashley from Boulder Colorado who rented Peach House quite a few times. But of course because of Covid they haven't been able to travel until now. So it was great to catch up on all the news and enjoy a lovely meal. We went on the first night they reopened and it was perfect – a decent breeze and cooler weather so no bugs…..
The ice cream parlor is also open so they will soon be very busy I know. Time to go and stock up on a pot of Bob's favorite Rum and Raisin ice cream I think.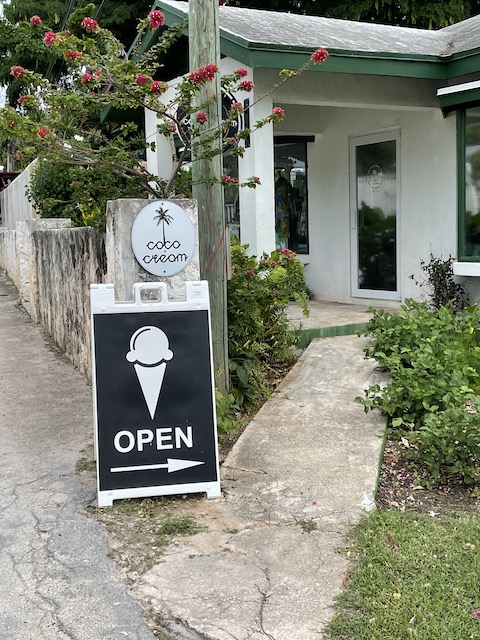 Tippy's also is open now – I know I told you last week but I thought for those of you who missed last week's blog it would be good to let you know !
We also had a fabulous curry the other night with our good friend Maithili and a couple of her friends who were visiting as well. Maithili is Sri Lankan and cooks brilliantly so it was a real treat to spend the evening catching up – it is nearly 2 years since we saw her – and enjoying her special chicken curry. It was great to just carry on from where we left off two years ago …..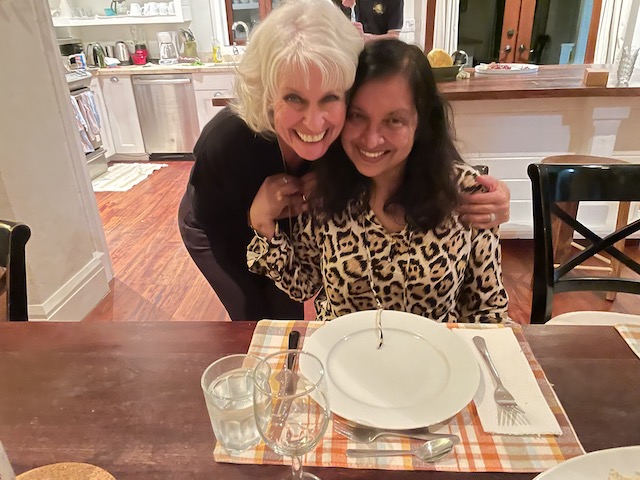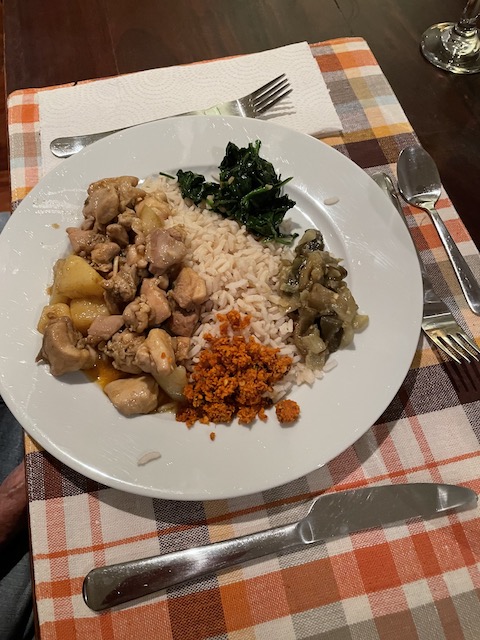 Brian the kitten continues to grow and gets friendlier and bolder every week. I am taking her back to Noah's Ark Animal Centre in Rock Sound on Saturday for her second vaccinations and I have treated her to a new carrier. The one I used before was way too big and has a cardboard door duct taped on it – not ideal if she decides she can force it open and roam around the car – so a girly pink carrier it is.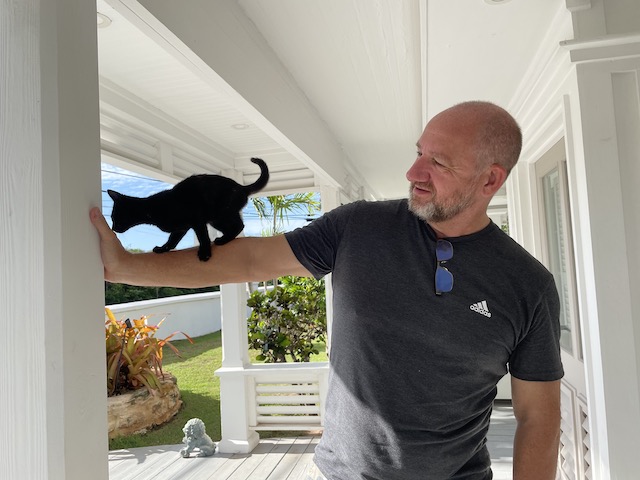 Joel – the elder of Bob's 2 sons is coming to visit this weekend – and again it is probably nearly 2 years since we saw him so lots to catch up on. He is just staying a week so we will have to cram a lot of conversations in ….
Sprawling Towers is coming on but we have hit the wall for the first time in the problem with goods being supplied . We have ordered the roofing materials but at best they will be delivered at the end of December – maybe into early January – but of course that is only 6-8 weeks – not that bad in the scheme of things. The Lanai folding glass doors are also held up and delayed – allegedly because two thirds of the workforce in the factory where they are assembled are sick with Covid. But as with everything in life you have to find a balance between not just giving in but also not driving yourself crazy with frustration – equanimity and balance are the order of the day ! And if it means that work is delayed then we have to live with that.
Next Thursday is of course Thanksgiving in the US – and it is a celebration that is close to my heart because I truly believe that it is so very important to give thanks for what is good and what we have in our lives. Family and friends at times can drive us crazy but actually without their love and support where would we be – and I love the idea of random acts of kindness to strangers to give thanks for the ability we have to do things that will make someone smile and lift their heart.
So have a great week and look out for those little opportunities to spread love and kindness wherever you can …..