Yes dear friends – it is 8 years since I started this blog and I can't believe that I still find things to ramble on about after all this time – right ? I am putting a link HERE to the very first post that I wrote….  Much has happened in those 8 years and I think that I will spend some time over the next few days re- reading those early posts.
I have just looked at 2 posts – "5 things I can't live without " and "5 more things I can't live without " and I was surprised to see that only one thing that I mention I am managing perfectly well to live without and that is the Crabtree and Evelyn Noel room oil. Sadly this is discontinued now. Actually I just googled it – as you do ! – and it is available on eBay but at $99 for a small bottle that used to cost about $20 I don't think I will be going for it . Anyway – it used to be used with a metal ring that you sat on top of a light bulb and the heat from the bulb infused the room with it's fragrance. Now with LED bulbs you don't get that heat. I have used it in an aromatherapy diffuser which does work very well – but as I say I am managing perfectly well without it !
And one other link – couldn't resist this early post about Joe- Louis our first potcake here – check this one out – Joe – Louis our communal dog at Governors Estate
Of course we love Rudge dearly and don't want to put his nose out of joint by not mentioning him as well !
Now on to more current things and specifically a wonderful evening we enjoyed last week at Bacchus Fine Foods. We met up with good friends John and Beth Allen who have a home here in Eleuthera and arranged a private dinner for the 4 of us at BFF – we haven't all been together for far too many years so it was really lovely to catch up and pick up where we left off.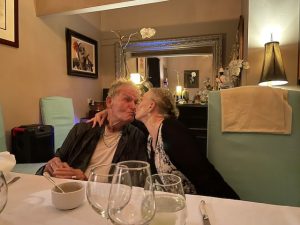 John and I had Angelika's special curries – one chicken, one shrimp as well as roti bread, rice and her fabulous tomato, onion and cilantro salad. Needless to say I ate too much and was slightly uncomfortable but boy was it worth it ! Bob and Beth both had steak au poivre . Oh yes and I forgot to tell you about the appetizers – vegetable samosas and spinach pakoras – such a treat for me as I crave Indian food on a regular basis. It was so  uplifting to reconnect and brought home to me again how very important our friendships are.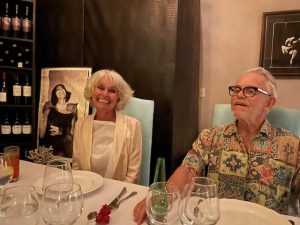 On Sunday we took Mary for lunch and I enjoyed a cold Bloody Caesar – usually that is a drink that Jane and I enjoy before going out for Sunday lunch – so this one was tribute to her as she wasn't with us. But she will be here in 7 weeks time – yippee !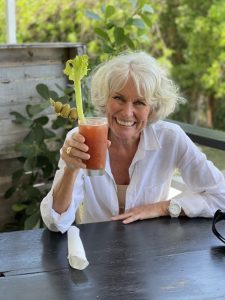 Sprawling Towers continues to progress as you can see from these latests pictures. The outside is being painted now – the color is very like the color of pink sand and the interior paint arrives on Monday – so that should go on soon.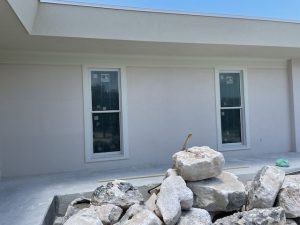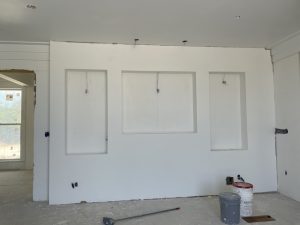 We are enjoying watching The Lincoln Lawyer on Netflix – recommended if you are looking for something new to watch. Any recommendations from you are always welcome – thanking you in advance. Also reading a great book – called Great Circle by Maggie Shipstead – also recommended
So dear friends, have a good weekend, treasure your friends and family and be kind to those who are experiencing difficult and trying times. We often have no idea what is going on behind those pleasant facades we all try to show to the world.