I have mentioned several times the fundraiser in aid of the Eleuthera Sailing Academy and it happened last Thursday at Unicorn Cay – about which there will be more later. The turnout was fantastic – around 200 people – and plenty of both new faces and regulars – all ready to mix and mingle and make new friends.
CocoJo ran the bar – cocktails, mocktails and cold beers – and they did a fantastic job keeping everybody well supplied with whatever they wanted.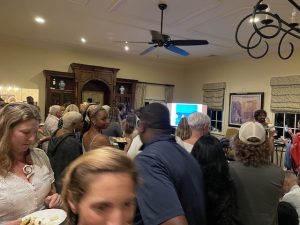 Bacchus Fine Foods supplied the food and it was sensational I can tell you …. All my favorites and some new dishes as well – turkey empanadas , spicy coconut shrimp, pakoras, and a huge table of cold cuts and cheeses, plus some delicious asparagus wrapped and finished with asiagio cheese – the list was endless and the food kept appearing throughout the 2 hours we spend there.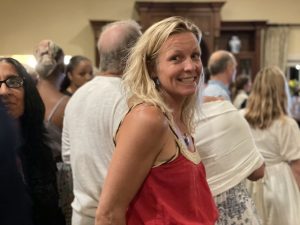 There was live music from Jeremiah Sweeting and the High Rock Band although we left before the dancing started – but it went on well into the night I was told. Some of the children from the sailing school were there and they sang and entertained the guests. It was a thoroughly enjoyable evening and felt to both us that this was the start of a new era in Eleuthera – lots of new homeowners and people wanting to be a part of the development of the island and it's community. It was a vibrant evening with the feeling of participation and a real sense of caring from so many people. Heartwarming !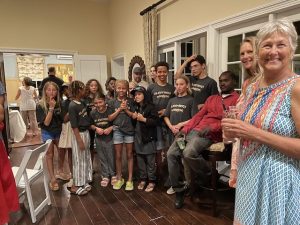 Several people paid Bob some lovely compliments about his building work over the years we have been here – how nice it is when folks say what they think when the see you face to face. Especially if it is positive feedback ….
Jane and Scott Snyder were very generous in opening Unicorn Cay up for the event – it is the perfect party house with an enormous greatroom that opens up to a Mediterranean style courtyard and swimming pool. And it easily hosted the large group that gathered there for the night.
The house was built in 1939- 40 by an English woman explorer and her husband. Her name was Rosita Forbes and her husband was Colonel Arthur McGrath . Rosita bought 400 acres – all around the site of the house and named the house Unicorn Cay because she claimed that Eleuthera was such a magical place that unicorns could have lived here. She was a suitably eccentric character – she was born in 1890 and spent a lot of her early years on travel expeditions all around the world.
Personally I love the story that she used to walk along the beach on Banks Road wearing nothing but a large wide brimmed sun hat. This was not universally approved of here but nothing seemed to stop her doing it ! This is the woman that Norma – of Norma's gift shop – told me had taught her a lot  in the original conversation that we had a few years ago.
She died in 1967 – but by then she had moved to Bermuda where she is buried – however the Colonel is buried near to Unicorn Cay. I have ordered a copy of her autobiography which I am looking forward to reading soon.
The idea that she is remembered and her house is carrying on being an important part of life here on island many years after her death is wonderful legacy and I hope that some of our houses will have the same part to play in the future life of people in Eleuthera.
In other top news of the week – our attic is cleared out and empty ! It is something we achieved so much quicker than I had dreamt of. The inimitable Cecil Petty – known as Boot  – and two of the strapping young chaps who work for us literally cleared it all out in a couple of hours on Monday morning . Then we spent a couple of hours sorting it into donate, discard or store and there we were. All done and dusted in less than a full working day – no treasure was found by the way …..
So now there is just the rest of the laundry room and some wardrobes to go – then we are ready for the move….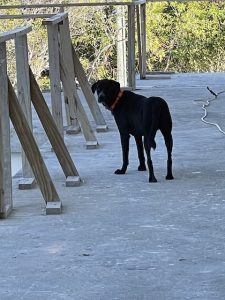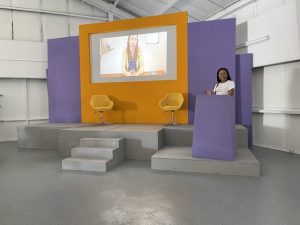 And finally a couple of pictures from Sprawling Towers – the first shows where we marked out with tape the position of some of the built in shelving for the library area in the hall. The second shows the ceiling filled and primed in the kitchen and dining area.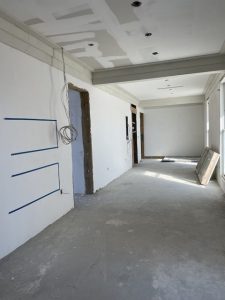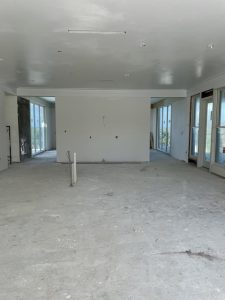 Have a great weekend , stay safe and be kind whenever you can……