As usual I am trying to keep you up to date with what is happening here in Eleuthera this week. As I told you last week there are neutering and spaying clinics for the next 2 weekends – a team from Nassau is coming over for a long weekend – the first clinic this coming weekend is in the park at Hatchet Bay. The clinics are Friday, Saturday and Sunday – make sure that you call ahead to book an appointment -242 – 359- 7051 or WhatsApp 847 651 5104 And remember it's free so please spread the word to anyone that you think could benefit from this. The second one is in Governors Harbour – same days but a week later – obviously ! – and same numbers to call. This one is being held at Bird Point – just past Tippy's on the Banks Road. Just past if you are heading towards Palmetto Point ……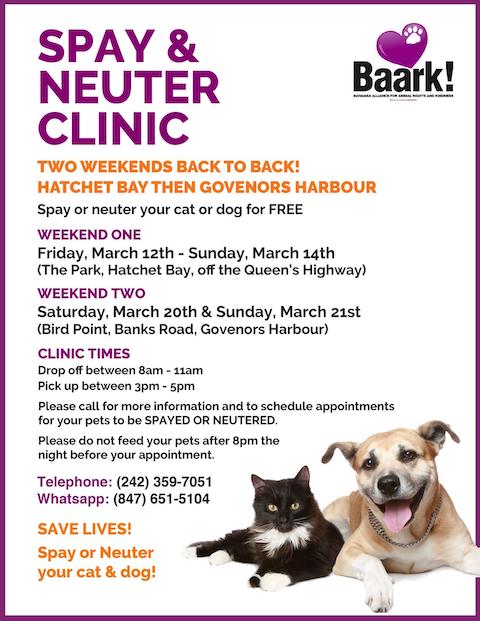 Another thing to look forward to is a pop-up shop that Dawn Fry of Island Girl Beach Gear is hosting at the Island Farm on Friday 19th March from 10am – 5pm. Do drop by if you are on island and take a look at the beautiful and original work that Dawn produces. Her beach bags are roomy and very well made – I use mine for shopping trips as well – so useful and very attractive. There are dresses, rompers and swimsuits – take a look at the website and decide what you may like and call Dawn to check and see that those particular items will be at the shop. Personally I have my eye on the fire coral swimsuit ! I will be calling you Dawn to see if you have it in my size ….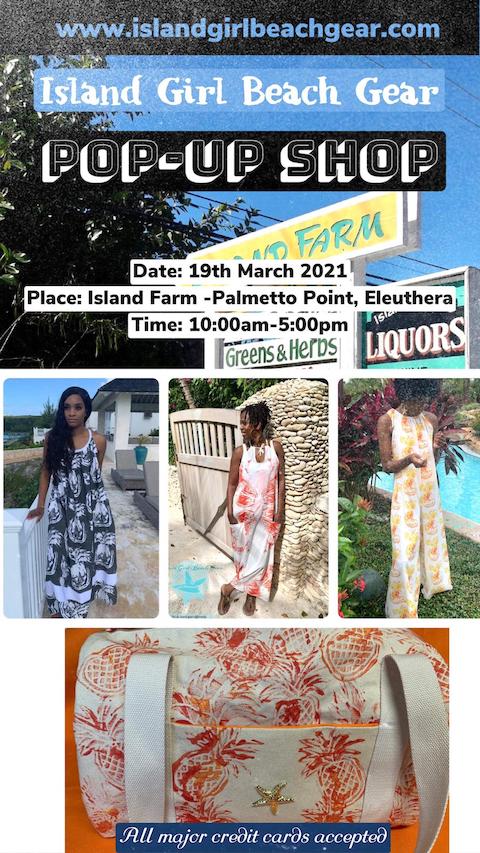 We had a lovely Sunday Brunch this week at a friend's house in Rainbow Bay. It is on the Atlantic side and the sea was spectacular . I spend quite a few minutes trying to get a shot of the waves hitting the rocks – but gave up because I was hungry ! The picture at the top was as good as it got !! The house worked really well for a party like this with sliding doors opening out onto the deck – the open plan living area was spacious and very well set up for entertaining. Now let me tell you about the food !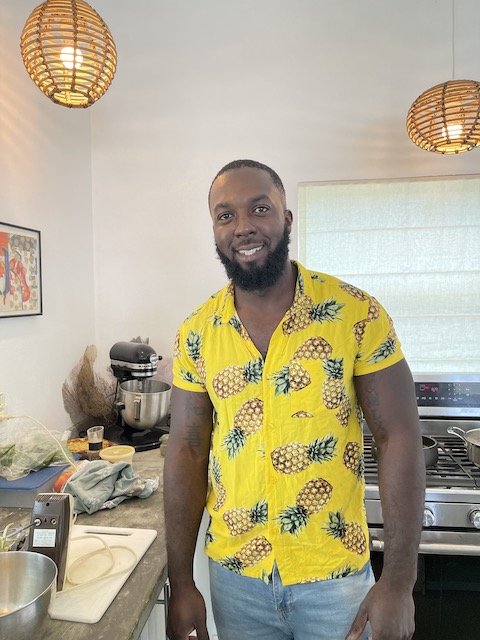 Many of you will remember Charles who used to work at 1648 – the restaurant at French Leave Resort. Well he went off to culinary school in August 2019 – the school is in North Carolina – and he finally made his first trip back for spring break this last week. Fortunately for all of us he did pretty much all of the cooking for the brunch party. Let me just tell you about something he cooked that we tasted before the party. He made eggplant parmigiana which we had 2 days after he cooked it – it was absolutely fantastic. That dish is not something I would pick from a menu – all too often it is just a sloppy mess – but this was first class. How wonderful that he got himself together to be able to attend this culinary school and go through a training that will make him a truly great chef . He will graduate in May 2022 but is looking forward to being able to gain more experience in different world cuisines before he comes back to the island.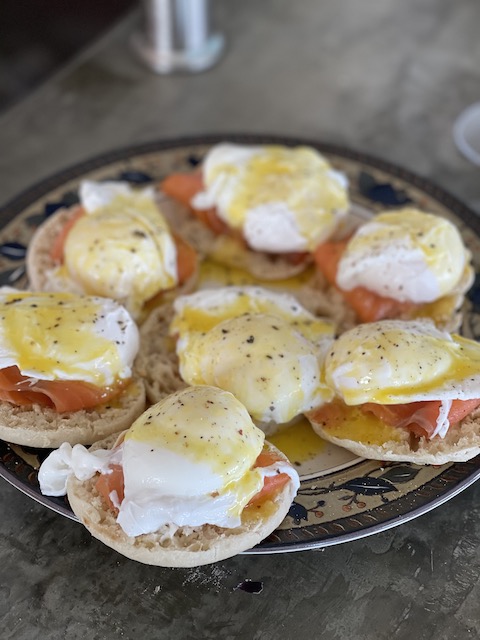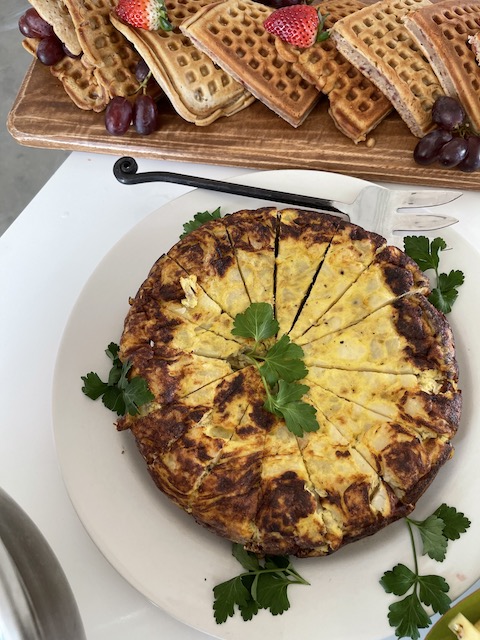 So, eggs benedict with smoked salmon – killer hollandaise sauce I might add ! – spanish potato tortilla – yummy , chopped roasted potatoes – roast lamb and steak which I didn't sample as a non meat eater but everything had a huge seal of approval from all present. Charles had a very calm and relaxed demeanor and looked totally at ease and happy in the open plan kitchen. It is a great success story and very heartening that Charles was determined to become the best he can be. I am so heartened when I hear of young people leaving the island to train and realize their best potential. And thank you Edgardo for hosting a great brunch party ably assisted by Dan and Larry…..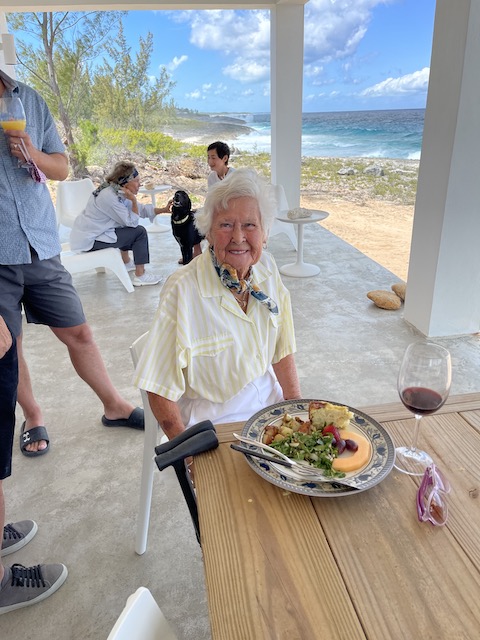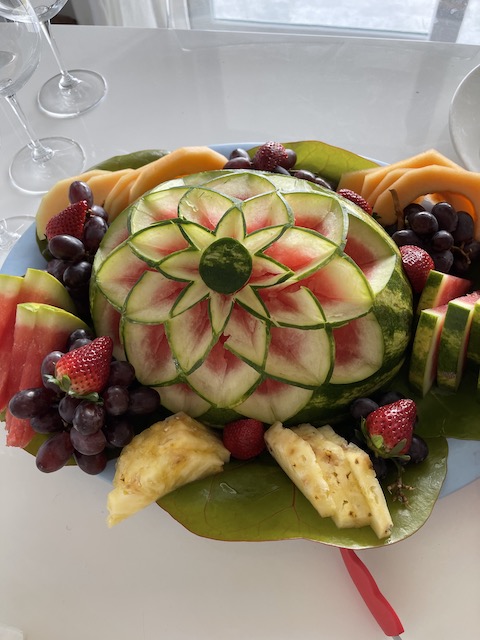 We all have a few favorite dishes up our sleeves that are our best – right ? Well we went to supper with good friends Nancy and Clemens and he cooked a fabulous fish pie for us. I can't believe in all the years we have known them that we haven't had this before. Cheesy mash on the top with salmon fish pie – so very tasty – thank you !