This week I bring you news of what is happening at Da Perk and also at our rental house – Tops….. Last week I mentioned that I had persuaded Bob to get some of our workmen to do an evening shift for a couple of days plus work the whole weekend getting the roof deck built, the back deck replaced and a stairway to link them with the garden at the rear of the house.
Bob likened it – and in fact christened the project the Hoover Dam . When I asked him why he said it was because it was a huge engineering project in such a short space of time – plus he was reading about the construction of the Hoover Dam in an article about LBJ – who was a senator at the time of it's construction …. I do like to know the context of our sometimes weird references and I'm sure you feel the same !
Anyway – back to the Hoover Dam. The main construction is done and it is useable with care. The railings around it up on the roof are not fully done just yet and it all needs staining and painting – plus the railings need to go on the steps as well. But Brooke and Andy who are now in residence at Tops have given it a test run and say it is perfect for a little star gazing. I am going to order a very swanky sectional outdoor sofa for up there to replace the temporary plastic chairs that will have to suffice for now…. And there will be a nice outdoor table and chairs on the rear deck for breakfast al fresco…..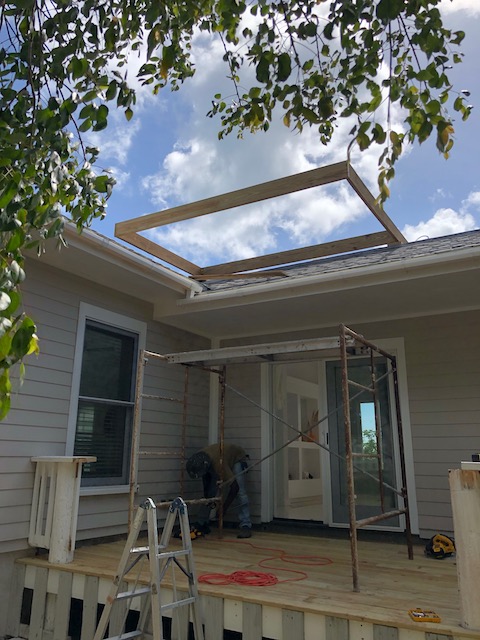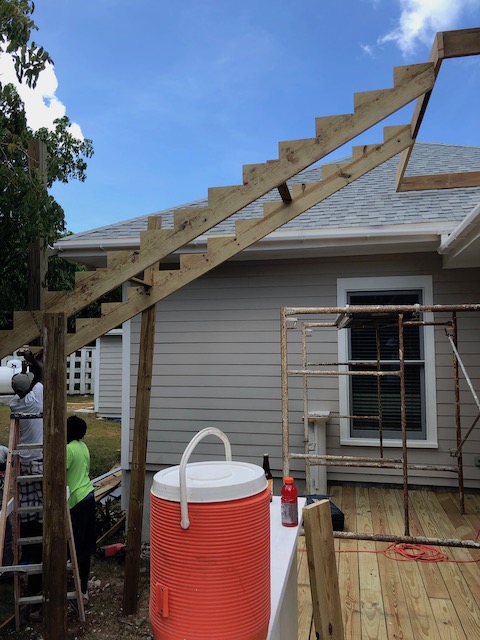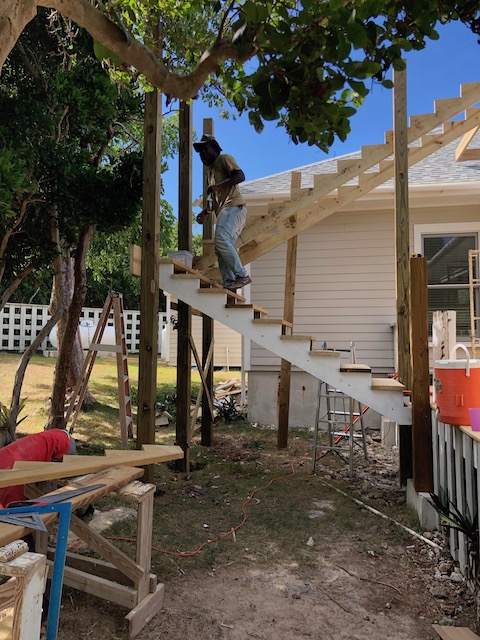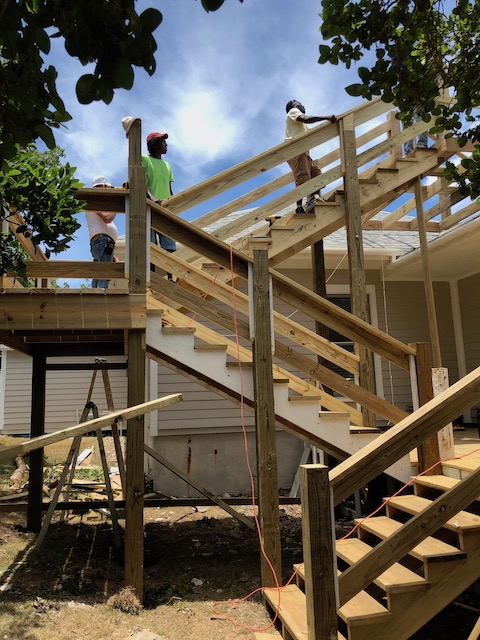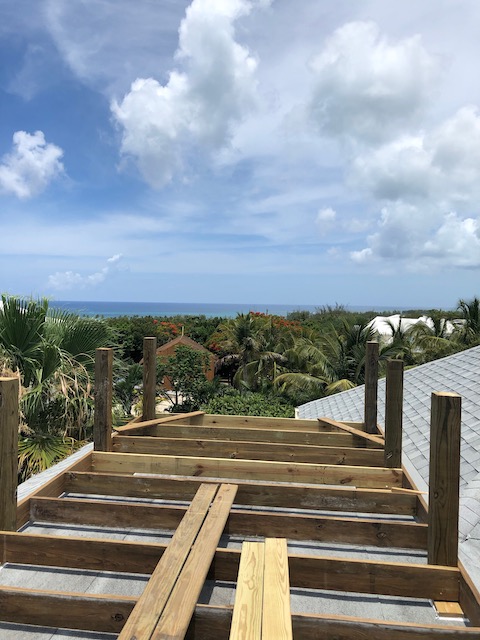 Now to news at Da Perk. We went for dinner last week on Thursday – six of us – and it was delicious ….. Horatio and his team are doing a really great job. High on the list are some cushions for the wooden bench seating. A quick lunch on them is one thing – but a couple of hours having dinner and chatting is another matter …….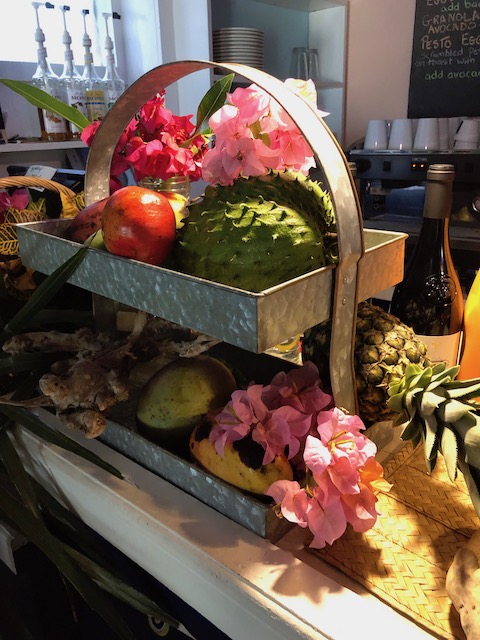 We had a lovely bruschetta first and washed it down with a glass or 2 of champagne – we took that ourselves by the way ….. Then a scrumptious salad of fresh salad leaves , watermelon and feta cheese. the balance was perfect – a tasty but light balsamic dressing made the finishing touch. We all oohed and aahhed about how delicious the watermelon was and Horatio told us it was because it was served at room temperature rather than straight from the fridge. Top tip !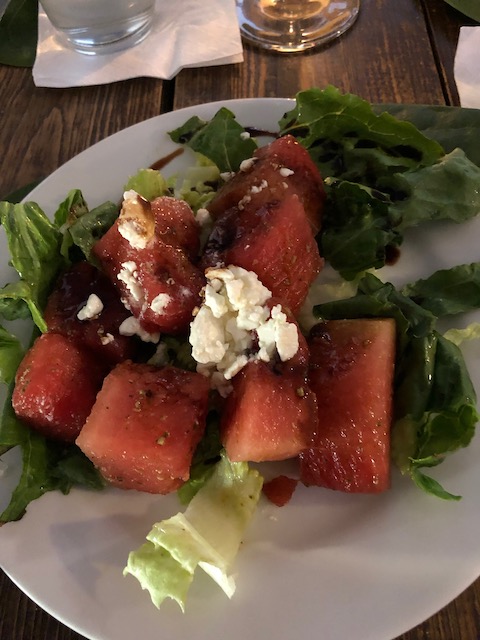 The main course was a choice of rack of lamb or salmon. 5 of us went for salmon and Chris plumped for the rack of lamb. Both dishes were served with delicious roasted potatoes, a small serving of pasta – perfectly dressed with plenty of parmesan cheese and fresh broccoli – so good and the salmon was perfect….. As was the lamb – so Chris said !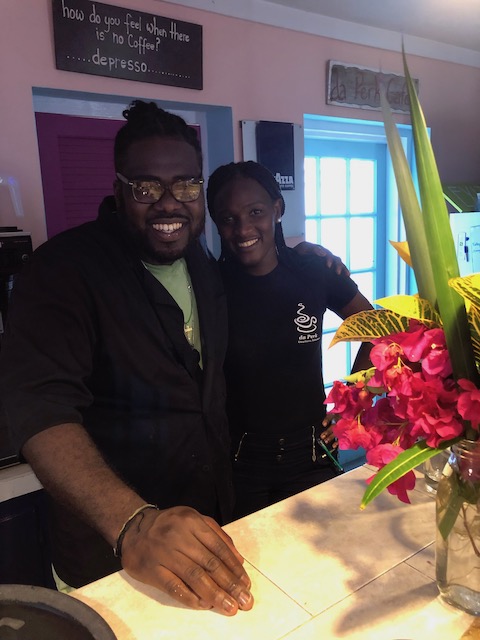 There was desert but I didn't eat any as I had cleared up all the potatoes that were left on anybodies plate – shameless !! Bob had bread pudding which he absolutely loves and there was a choice of a banana cake as well. It was a great evening – very casual and relaxed – great friends and good food. One of my favorite combinations as I so often say …….
Da Perk now has Tapas Tuesday, dinner on Thursday, Fish Fry Friday cocktails and more tapas and Sunset cocktails and Yoga on Sunday !! Plenty going on and the vibe is relaxed and casual….. Do give it a try – plus of course the usual lunch and breakfast, coffee and pastries…. Such a great addition.