So news this week of the Governors Harbour Fire and Rescue and also a new handy convenience store on the up hill with extended opening hours.
The GHFR held it's first board meeting this week at the Buccaneer with all board members showing up – even though it was a public holiday – Majority Rule Day in case you were interested.  I first wrote about the newly established Governors Harbour Fire and Rescue back in July last year and the response was very positive. So now things are moving forward and I wanted to bring you up to date.
The dynamic Anya Ferguson – who I have written about before – is the Treasurer – and has organized a Facebook page – Governor's Harbour Fire Rescue
Do check it out and keep up to date with all the news.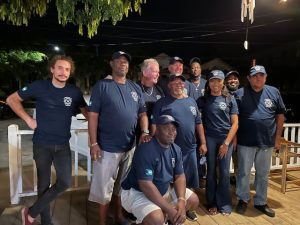 Just as a recap in case you missed the original blog post this initiative is the brainchild of  Martin Weber – a homeowner here in Governors Harbour – who for many years was a volunteer fireman in Ottawa Canada. He is working with local fire chief Ricardo Pinder and other leaders of the community here to have a modern firetruck and all the associated equipment which will be housed in a new designated building – the location is yet to be decided.
All the volunteer firemen are about to start training in conjunction with Jason Thompson of Palmetto Point so that this time until the dedicated firetruck is available can be used constructively in making sure that they are as ready and well trained as possible.
T shirts, hats and face masks are available through the shop at the Buccaneer and Normas – as before….
There is now a bank account where donations can be made – as I told you before the department will be run on a voluntary basis – totally dependent on donations which will be absolutely vital to ensuring that this very important service is viable. And of course I have to let you know that if a large enough donation is made then your name could be emblazoned on the firetruck !
Here are those details if you want them …
ONE ELEUTHERA COOPERATIVE CREDIT UNION
Bank Of The Bahamas Information
Transit No. – 03153
Account No. – 1420000032
Account Name. – One Eleuthera Cooperative Credit Union
One Eleuthera Cooperative Credit Union – Governor's Harbour Fire Rescue – 10882
Kindly specify in the Narrative – Governor's Harbour Fire Rescue – 10882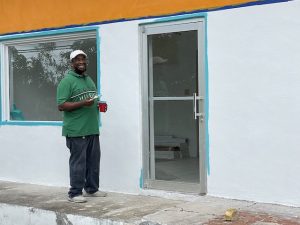 And now news of the new store called – For Your Convenience – which will be opening on February 1st. It will be on the up hill in Governors Harbour where Burrows Liquor Store used to be. Plenty of parking space there and most importantly they will be open until 10pm at night. So if you arrive on a late flight after all the other food stores have closed you will be able to pick up a few essentials to last you through. I am sure that this will be a great addition – although the store is currently located on Cupid's Cay many people don't either know about it or find it difficult to locate – so easy peasy in it's new spot.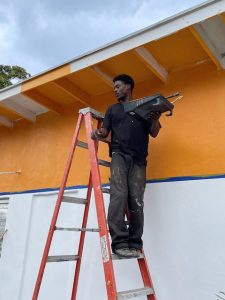 We had an amazing storm one night this week – it must have been at least a tropical storm if not a Cat 1 hurricane. Huge amounts of rain and extremely high winds. Lots of flooding and some trees down and just look what happened to the entrance to French Leave Resort part of the beach –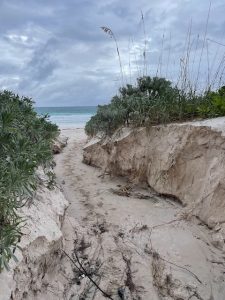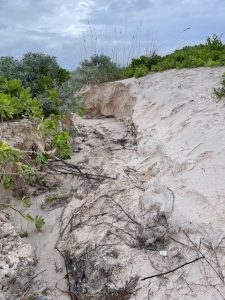 Sad news that the fabulous Bahamian actor Sidney Poitier died last week. As a gesture of remembrance Bob and I watched In the Heat of the Night, and Guess Who is Coming to Dinner – he was a brilliant actor and took some difficult roles tackling big issues. While we are talking films I also rewatched and Bob watched for the first time the British movie – Yesterday. Well worth a watch if you are looking for something with fabulous music and a great ending !
So that's all for this week – take care and do stay safe ……